Robo-Scan Pan n' Tilt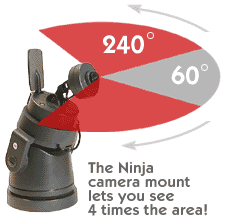 This is a brand new product as sold at The DoItYourselfstore. Introducing the most exciting and significant Video Surveillance product of the year! It's the NEW Ninja Pan 'n Tilt, a video camera mount and controller that allows you to easily move your XCam2 Camera from left to right, and up to down! With the included Scan Pad Remote, you can remotely move the position of the camera to monitor whatever you want! With its Ultra Sweep & Scan™ feature you can put your camera on auto-pilot to sweep between 4 preset locations, perfect for when you're not home! .
Lots of Bang!
GET THE POWER OF 4! Without the Ninja Robo-Scan, your camera can view only 60º! When you attach your camera to the Ninja, you'll be able to view 240°, which is what 4 cameras can see!
SIMPLE AS 1-2-3! Place the Ninja Robo-Scan base on a table or platform, connect the base to a TriPod, or mount the Robo-Scan to any wall using the included wall mount. Attach any XCam2 Video Camera to the Ninja Base, then view all the action on any TV or PC*! Then using the ScanPad Remote control up/down and left/right as you scan all the action! The motor inside is extremely quiet, unnoticeable to people in the room!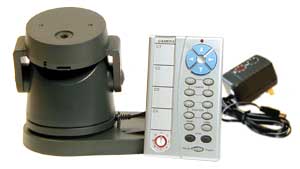 Included in your Robo-Scan kit
1 Ninja Pan 'n Tilt Base

1 Ninja Wall Mount

1 FREE Ninja ScanPad Remote - $50 Value!

1 Addressable Power Supply

5 mounting screws for Wall Mount
Works Right out of the Box!!
"NEW Ninja Pan 'n Tilt Mount takes Wireless Video Surveillance to the next level!"

.

Incredible 240º x 130º Pan 'n Tilt Range - Now you can easily control remotely what your camera is looking at; Pan 240 degrees left to right (31 seconds per cycle) and tilt 130 degrees up and down! (15 seconds per cycle). Amazingly smooth & fluid movement!

Ninja ScanPad Remote (Included) - Use the Ninja Remote to scan between 4 cameras (on/off) and control the position of each camera that is mounted on a Ninja Pan 'n Tilt base. Remote sends RF (Radio Frequency) signals to X10 Transceiver, which passes the signals through your house wiring to control the cameras.

Ultra Sweep & Scan Feature™ - Put your Ninja on Auto-Pilot! You can store up to 4 positions for each camera. Then using the "sweep" button on your Ninja ScanPad, you can automatically sweep thru the 4 stored positions (ex. front driveway, street, front lawn, and front door area.) Great for recording and monitoring an entire 240 degree area when you're not home!

Extremely Quiet! When the Ninja moves its
unnoticeable to people in the room!


The Ninja ScanPad Remote:
Scan between all your camera
using the C1 - C4 buttons. Use
the "blue" arrow buttons to pan
the selected camera left/right or
tilt up/down. Using the P1-P4
buttons set 4 separate locations
to monitor. Then by selected the
"sweep" button, Ninja will
automatically move to each
position then repeat.
Click to see enlarged photo
buy Roboscan

$89.99 plus (s+h) at DiyHut
PayPal users click below