Do-It-Yourself Credit Repair Kit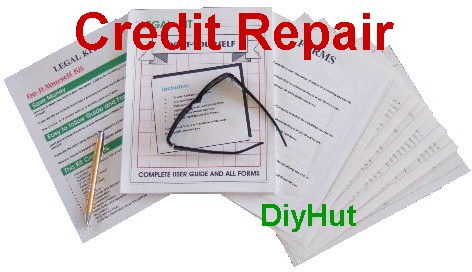 Credit Repair from The DoItYourselfStore is a proven credit repair system that can help turn bad credit into great credit. This time tested program provides clear, step-by-step instructions and information on how to repair, restore, and rebuild your credit--all the tips, techniques, and tactics you need to survive and thrive in today's credit system. Obtain your own credit report, remove negative marks that destroy credit, and positive credit indicators, negotiate with creditors, and build powerful credit. Includes sample letters and a complete explanation of applicable laws.
A partial listing of subjects covered:

How the credit bureaus work
How to measure your credit rating
Improving your creditworthiness
How to develop triple-A credit
Successfully borrowing from a bank
Obtaining credit
Comparing credit card terms
What your credit report discloses
5 common reasons for credit denial
The 10-step strategy to repairing your credit
Gaining creditor cooperation
Turning around your bad credit rating
Tax liens and your credit rating
Bankruptcy, repossession, and foreclosure
25 credit scams you must avoid

...and much more!

Blank Forms include:

Request for Credit Report
Request for Free Credit Report
Complaint Letter to Delete Inaccurate Information
Request for Removal of Outdated Information
Request to Merge Inquiries with Account
Reminder to Respond
Demand for Corrected Credit Report
Addition of Consumer Statement
Request for Addition of Supplementary Credit References
Explanation for Delinquent Payment
Creditor Settlement Agreement
Request for Reasons for Credit Denial
Master Credit Data
The Credit Repair Kit provides full instructions and contains sample forms for correcting every type of credit problem. You can even use the Credit Repair Kit to improve the credit rating of your business.
Simple to use, this kit is for:

Only 19.99 click here FREE SHIPPING incl.