Dual Electronic Delux Pest Control
The new Deluxe PestContro from The DoItYourselfStore allows you to make adjustments to suit your home's specific needs.
Effectively chases away rats, mice, squirrels, ants, fleas, roaches,
waterbugs, and other household pests. Only one unit needed per household (coverage approximately
5,000 sq. ft.) This plug-in unit uses Dual (MagnetoSonic and Ultrasonic) technology - MagnetoSonic Technology works within the wiring of the home creating a unfriendly
place for pests, while working within the living area with Sweeping Sound Ultrasonic Technology. Features an audible test button, night light, three LED status indicators UL and CE approved Two year warranty Size 4 1/4"Hx 71/2"Lx 31/4"W. 6.8 oz.
Adjustable dual, ultrasonic frequency transducers transmit in stereo to maximize the coverage area in the room that the unit is in. This technology is used to alter the normal electrical field around wiring in your home's walls to chase pests from areas you can't access.

59.99 AND FREE SHIPPING click here
incl. (s+h)
---
Lentek Pest Patrol OUT OF STOCK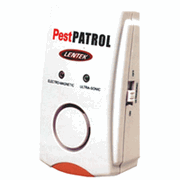 Your best pest defense. Dual technology, uses electro magnetic and ultrasonic in one unit. Drives away pests electronically
-Single utrasonic speaker design
-Direct plug-in to any standard AC outlet
-Drives out roaches, mice, rats, and other critters
-Covers up to 2500 sq. ft.
-Ultrasonic On/Off switch for users with pet rodents
-Two-year limited manufacturers warranty
-Safe for electronic devices and appliances
-LED Power indicator
-Test button
-Built in Night Light
-EPA EST. NO. 72092-CHN-001
-UL Listed

Buy this product $39.99 (plus s+h) and other pest products at DiyHut
Paypal users click here
---
PestContro OUT OF STOCK

By combining two proven pest control systems; electromagnetic interference and ultrasonic sound, PestContro provides the most complete and powerful protection available. When plugged into any wall outlet, PestContro's electromagnetic feature alters the normal field around your wiring. It creates an effective pest control environment within the walls and ceiling where pesticides and traps can't reach.

The electromagnetic function covers approximately 2500 square feet and will not affect computers or appliances. The ultrasonic feature is designed to eliminate household pests that are in your living area. PestContro will drive out rats, mice, ants, flies, fleas, roaches, crickets, spiders, squirrels, waterbugs, bats, bees and other household pests. UL listed.

Buy this product

Sale $44.99 (plus s+h) and other pest products at DiyHut
Paypal users click here
incl. (s+h)