Do-it-Yourself Incorporation Kit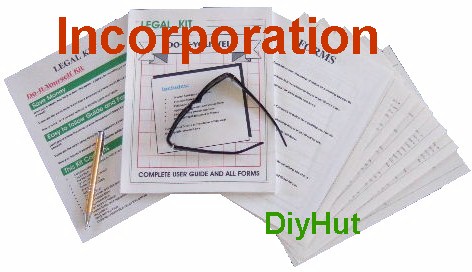 With our kit from The DoItYourselfStore, you can incorporate your business without spending hundreds of dollars in costly legal fees. Easily turn your sole proprietorship, partnership, limited liability company, or new business into a corporation. Incorporation Made E-Z shows how E-Z it is to incorporate in any state without a lawyer.
A partial listing of subjects covered:

Should you incorporate your business?

The sole proprietorship

The partnership

The limited liability company

The corporation

Where to incorporate

Types of corporate stock

Drafting a corporate purpose

Choosing a fiscal year

The corporate board and directors

The Certificate or Articles of Incorporation

Steps in the incorporation process

The "S" Corporation election

Maintaining corporate records

Ten ways to dissolve a Corporation

... and much more!




Blank forms include:

Minute book

By-laws

Waiver of Notice of Meeting of Incorporators and Directors

Notice of Organizational Meeting of

Incorporators and Directors

Minutes of Organizational Meeting of Board of Directors

Waiver of Notice, First Meeting of Shareholders

Minutes, First Meeting of Shareholders

Minutes, Shareholder's Annual Meeting

Notice to Directors of Regular Board Meeting

Minutes, Regular Board Meeting

Minutes, Directors' Meeting

Assignment of Assets

Medical Care Reimbursement Plan

Resolution Ratifying the Annexed Medical Care Reimbursement Plan

Notice to Shareholders of Annual Meeting

Stock Ledger and Transfer Ledger

Stockholder's Proxy

Certificate of Incorporation for New York

Plus FREE bonus - How to Save on Attorney Fees

---

The kit shows how E-Z it is to incorporate in any state without a lawyer. You get the forms which generally conform to the legal requirements of all states (although it will be necessary to obtain certain state-specific forms from your Secretary of State's office) and the information necessary to incorporate, conduct meetings, record minutes, and protect your personal assets from business debts.

Simple to use, this kit contains:

Notice of Meetings

Waivers

Corporate Minutes

By-laws

Corporate Records

Special Resolutions

Complete incorporation manual

Address and phone numbers for the Departments of Incorporation in each state

Note: This product does not contain Articles of Incorporation, which vary from state to state.