Free Tool Kit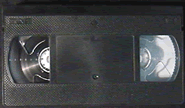 Free Video
All Kits include:
Professional grade metalized film.
Enough film to tint the rear section of your car.
(Rear sides and rear window)
All film is PRECUT to your car's windows.
Free with every kit order:
Free tool kit
Free step by step instructions
Free instructional vhs video !!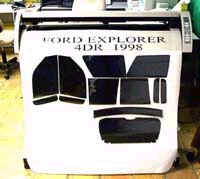 Precut by Computer
Our Product
We have taken the computer cut technology that we have been using at our own facility and now offer it to those who would like to do-it-yourself.
Computer cut patterns are already cut for your specific car. THE HARD PART IS DONE FOR YOU!!

Film Info:

The tint we provide in your kit is the exact same tint we use for our own customers at M&M Window Tinting. We only use professional quality metalized film. Your film comes as a gray (smoke) color.
Tools:

We provide you with all the tools needed to tint a car. It is recommended however, that you obtain a heat gun (available at any hardware store) if you would like to heat shrink the film on curved windows. Included in the tool kit are: a professional auto squeegee, a spray bottle, slip solution, steel wool, scraper blades, and a bondo tool.

Do-It-Yourself Instructions:

Included in your kit are complete written and video instructions on how to tint your car.

Video:

The video covers window tinting from a beginners point of view. Even if you have never tinted a car before, we show you techniques that are easy to learn. Most important our video shows you how to fix or cover up your screw ups!!! Keep in mind this video was
done in our own shop, by professional tinters. We are not video experts but, the content of the video is what is most important!
Contact Info
DoItYourSelfTint
c/o M & M Window Tinting
330 N. Andreasen Dr.
Escondido, CA. 92029
Phone: 760-535-1928
Fax: 760-743-3391
Email: info@mmtint.com
More Links
Interested in other cool do-it-yourself products? Check out