Wireless Outlet/Light Switch
A great do-it-yourself product by The DoItYourselfStore. Never fumble in a dark room again! Turns light on and off with a touch of a switch! Easy installation is as follows: plug in the receiver unit into any standard outlet and mount wall switch at desired location. Or if you prefer, do not mount wall switch and use as a remote control. The Light switch makes turning on and off lights easy with a simple touch of a switch.

Features:

* Installs easily - no wiring required
* Selectable channels - use up to 4 units in
your home without interference
* Signal passes through walls and floors
* Operational range up to 50 feet
* Rocker switch for easy fingertip control
* Wall switch requires 12 volt alkaline
battery
Paypal users click here
incl. (s+h)
---
Wireless Light Socket Switch
Turn a fixture on and off with a switch! Eliminates the need for a pullchain! Our Screw-In socket receiver screws into your lamp. Mount the transmitter switch wherever you decide. Perfect for closets or overhead lighting that requires a pull chain. Can also be used with traditional table lamps.

Features: * Easily control an overhead light or a table
lamp
* Eliminates need for pullchains
* Channel Selectable- Can use up to 4 units
in your home
* Can control up to 150 watts incandescent
light
* Up to 50 foot range
* Rocker switch for easy fingertip control
* Wall switch requires 12 volt alkaline
battery
Paypal users click here
incl. (s+h)
---
Multi Wireless Light Kit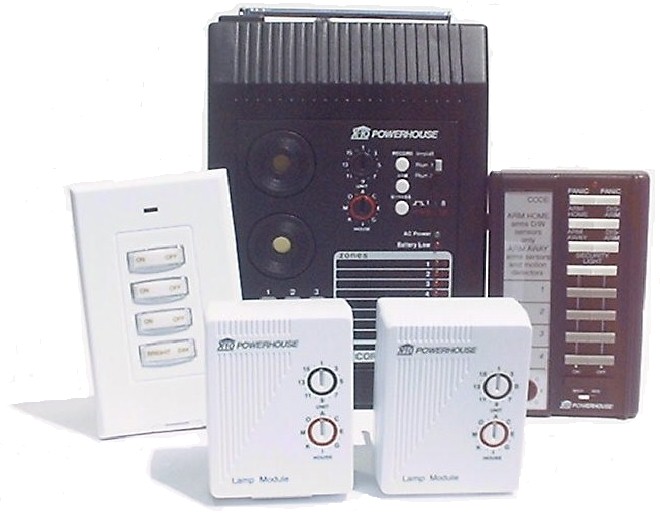 Have you ever wanted a light switch in a certain location, but didn't want to rip a hole in a wall and connect electrical wires? Now X10 has come to the rescue with the ALL NEW stylish Slimline wireless wall switch! This super sleek, super thin and light weight, wireless remote wall switch adheres to any surface! Easy single push-button programming has your Slimline set for each button to control a different lamp Now you have the dream switch you always wanted, in the perfect location!
Includes Remote control so now you can control the same lamps from your favorite location.
Everything you need to control multible lamps is included in this kit Here is what you get:
Here is how it works:
Simply set the modules to 1A or 2A (1A is the top stitch, 2A is the second switch) or set both modules to 1A and one flick of the switch will control two lights at the same time.
The wall switch or remote control send a wireless signal to the transceiver which sends a signal to modules.
PayPal users click here:
Includes (s+h)
---
Multi Wireless Motion Light Kit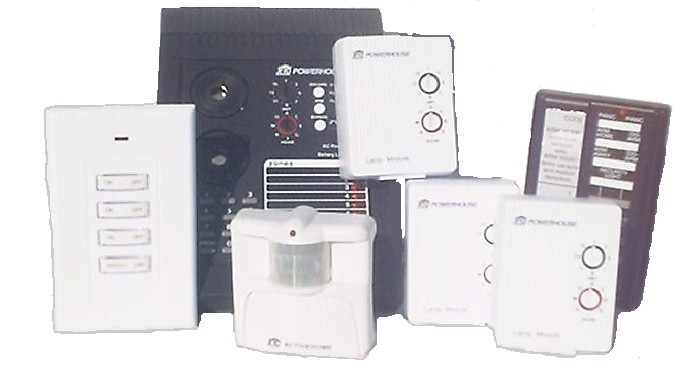 This is the same product as the above Multi Wireless Light Kit with the addition of a motion sensor and extra Module.
What you can do with your motion sensor:
Motion sensor can control one or more of the lamp modules

set a lamp to go on when motion is detected then off when you leave the room

Motion sensor can be set to keep light on anywhere between 1 minute to 256 minutes

Motion sensor can be set to work day and night or night time only

Motion sensor can be set to turn light on at night then off during day
Up to 20' ft range
Passive infrared technology
Motion Sensor is 2.5 x 2.5 inches
Intended for indoor use. If you need for outdoor use let us know.
Requires 2 AAA batteries (not included)
PayPal users click here:
Incl. (s+h)
---
Q&A
Q. Do the lamp modules plug into a regular electric outlet? And then the power cord runs from the lamp to the module?
What are the round red and black circles on the lamp modules for?
Can the transceiver be 'hidden' or does the light switch and remote need to be line-of-sight?
A. The remotes do not need to be line of site. The dials change frequency, so you can set the motion sensor to only control one module for instance, if you set the motion sensor(dial) at A-1 and a module is set at A-1, then the motion sensor controls that module. The remotes have numbers next to buttons, so if you push button 2 it controls which ever module(s) you have set to A-2. Yes the modules plug into any outlet then a lamp would plug into the module.